Üretici 6063 Alüminyum Ekstrüzyon Profilleri Dekorasyon İçin Alüminyum Perde Duvar
Verimlilik:

36000 Tons Annually

Menşe yeri:

Çin

Yetenek kaynağı:

36000 Tons Annually

Sertifika:

CE, SONCAP, ISO, CIQ, RoHS, TUV
Ürün Açıklaması
Model No.:6063 Şekil: Özelleştirilmiş (geniş aralıkta şekiller mevcuttur) Temper: T3-T8 Alaşım: Alaşım Alaşımlı Malzeme: 6063 Cilalı Alüminyum Profil: Mekanik Cila Malzemesi: 6063-T5, 6061-T6, 6463-T5, 7075- T6, 6082 Derin İşlem: Delme, Delik Açma, Delik Açma, Bükme Standart / Sertifika: Cqm, SGS, Ce, BV, Soncap / GB, ISO, JIS, Nzs Ödeme: T / T% 30 Mevduat, Denge Öncesi Teslimat Süresi: 25-30 Gün Alıcı Nakliye Paketi tarafından örnek onaylandıktan sonra: Plastik Koruyucu Film ve Su Geçirmez El Sanatları Kağıt Menşei: Çin Türü: Pencere ve Kapı Alüminyum Profil, Dekorasyon Alüminyum Profil, Isı Emici Alüminyum Profil, Cam Duvar Alüminyum Profil, Taşıma Alüminyum Profil Sınıfı: 6000 Serisi Pencere ve Kapı Alüminyum Profil: 60 Serisi Yüzey İşlem: Eloksal, Toz Boya, Tahta Kesim, Özel Sertifikasyon: CE, SONCAP, ISO, CIQ, RoHS, TUV Ürün: Alüminyum Profil Yüzey İşlem: Eloksallı, Elektroforez, Toz Kaplamalı, Ahşap Gra Renk: Özelleştirilmiş (a Wi ZHL (PAILIAN) / OEM Teknik Özellikler: özel HS Kodu: 7604210000 Üretici 6063 Alüminyum Ekstrüzyon Profilleri Alüminyum Ekstrüzyon Profilleri Alüminyum Ekstrüzyon Profilleri Alüminyum Ekstrüzyon Profilleri Alüminyum Ekstrüzyon Profilleri Alüminyum Ekstrüzyon Profilleri Alüminyum Ekstrüzyon Profilleri Alüminyum Ekstrüzyon Profilleri Alüminyum Ekstrüzyon Profilleri Alüminyum Ekstrüzyon Profilleri Alüminyum Ekstrüzyon Profilleri Dekorasyon için Perde Duvar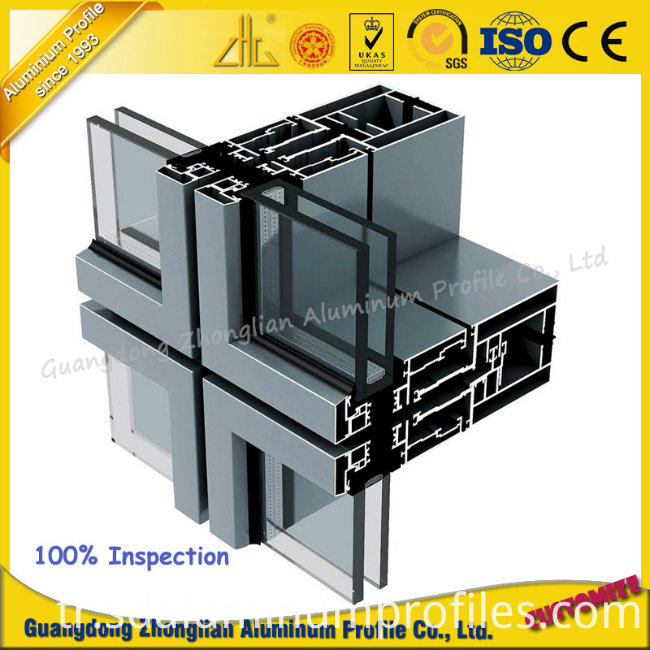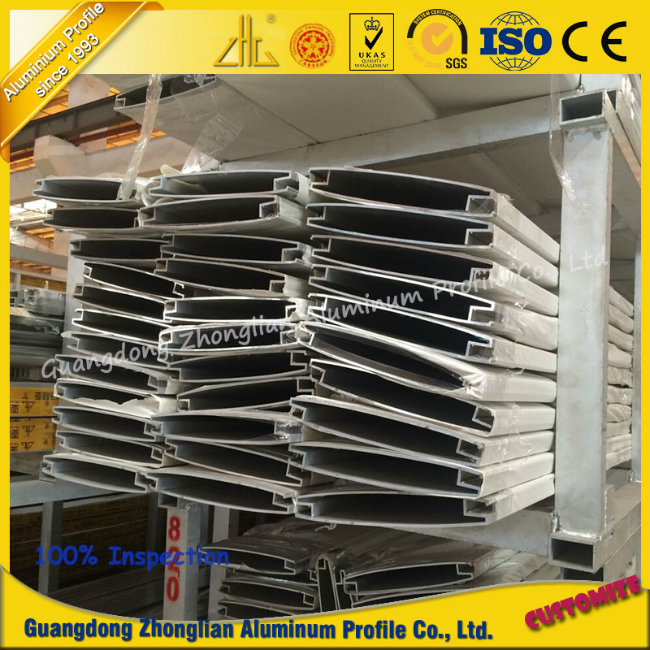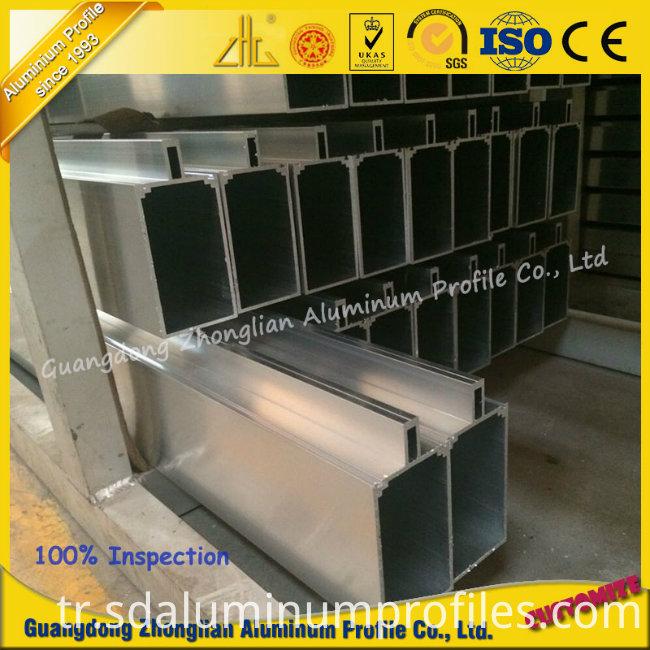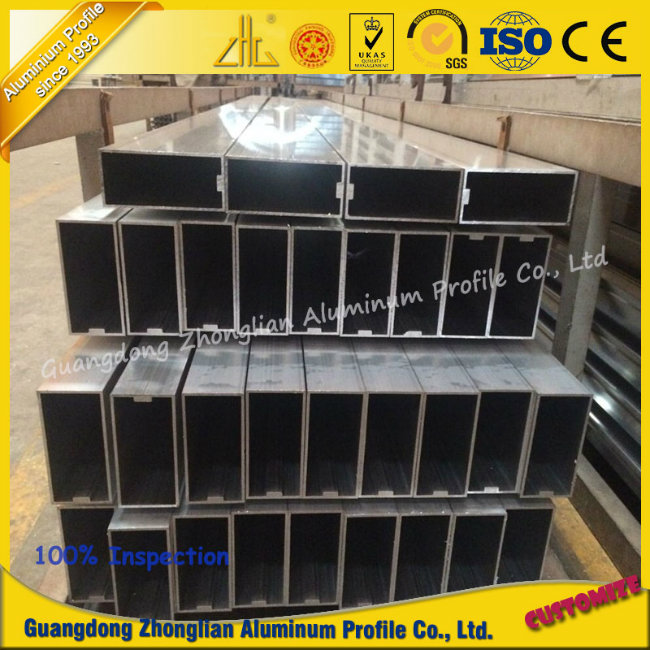 Ürün özellikleri
Item
Aluminium extrusion profile for curtain wall
Material
Aluminium 6000 series alloy, such as 6061, 6063, 6082, 6463 etc.
Temper
T4, T5, T6
Thickness
General profile thickness:0.8-5.0mm; Anodized protection thickness: 8-25um; Powder coating color thickness: 40-120um.
Size
3m-6m per piece, or customized.
Shape
Square, flat, round, hollow, oval, triangle, U-profile, L-profile, T-profile, H-profile, customized available.
Surface Treatment
Mill-finish, anodized, powder coated, electrophoresis, wood grain, timber, PVDF paint, polishing, brushed.
Color
Silver, champagne, black, bronze, gold, white or customized
Application
Window and door with thermal break strips, curtain wall, glass wall, furniture, ceiling, kitchen, LED strip, transportation rail, vehicle, motor housing, machine, tent, solar panel, industrial profile, decoration profile etc.
Deep Process
CNC, drilling, milling, cutting, tapping, welding, bending, assembling.
MOQ
500 kgs for each item, usually 13-15 tons for a 20GP, 25-28 tons for a 40HQ.
OEM service
Drawing, sample or design service offer by customer.
Production Capacity
2400-3000 Metric tons monthly.
Brand Name
ZHL (Yalian aluminium)
Certificatesand Standard
1) ISO9001-2008/ISO 9001:2008; 2) CQM CERTIFICATES; 3) SGS, CE, BV, JIS, AS, NZS, QUALICOAT, QUOLANOD AVAILABLE.
Guarantee
Surface color can be stable for 10-20 years indoor using.
Packing Details
Inside: pack with plastic protective film to protect each piece.
Outside: wrap to bundle by waterproof craft paper or EPE film, or customized
Delivery time
Die developing and sample testing: 12-18 days .
Mass production: 25-30 days after confirming sample by buyer.
FOB Port
Shenzhen/ Guangzhou/ Foshan
Payment Terms
T/T 30% for deposit, balance before delivery.
Settlement Terms
Charge by final actual weight or by drawing theoretical weight.
Aluminium Alloy Chemical Composition

Alloy

6063 (%)

6063A (%)

6061 (%)

6082 (%)

Si

0.2~0.60

0.3~0.60

0.4~0.80

0.7~1.30

Fe

0.35

0.15~0.35

0.7

0.5

Cu

0.1

0.1

0.15~0.40

0.1

Mn

0.1

0.15

0.15

0.40~1.0

Mg

0.45~0.90

0.60~0.90

0.80~1.20

0.6~1.20

Cr

0.1

0.05

0.04~0.35

0.25

Zn

0.1

0.15

0.25

0.2

Ti

0.1

0.1

0.15

0.1

Other (each)

0.05

0.05

0.05

0.5

Other (total)

0.15

0.15

0.15

0.15

Al

Remainder

Remainder

Remainder

Remainder
Characteristics of differerent surface treatment
Mill finish
National standard aluminium billets which is availavle for any kind of surface treatment, with natural burnish.
Other products in the market are probably made of recycled aluminium alloy, not available for polishing and other special surface treatment. Moreover, the hardness and planeness cannot meet general standard.
Anodizing
Our even anodizing process is used for protecting the surface, and 

Matt Anodized

 

Silver is the best seller

 which you can hardly find mechanical lines on the surface (better than other factories) with beautiful fine sand blasting processing. The surface with an anodizing thickness between 10 and 13 μm can hardly be scratched, small scratch marks can be easily removed. However, other profile products with the same color in the market would be easily bruised because of a smaller thickness, and it's also difficult to remove the scratch marks on their surface.
Electrophoresis
Electrophoresis surface is more shining and smooth than anodizing, no particles on the surface.
Powder coating
Various colors or customized are available. No particles can stay in the air during the process, which makes our profile surface very smooth. Actually this is a technical problem which can hardly be solved by other factories. This is also our product advantage as comparing with other profiles with the same color in the market.

 

Wood grain
Simulated wood grain surface treatment makes a stereoscopic texture look like real wood, it's even superior to real wood. Available for many kinds of wood pattern, hand feeling, film transferring or customization are also available.
Polishing 
Mirror like finish by buffing and chemical process.
Brushed 
Shining with line by brushing and chemical process.
Şirket Bilgisi
Guangdong Zhonglian Aluminum Co, Ltd 23 yılı aşkın süredir çeşitli alüminyum profiller üreten geniş ölçekli kapsamlı alüminyum profilli bir kuruluştur. Biz, 21 ekstrüzyon üretim hatları ve profiller, toz boya, ahşap tahıl ve elektroforez vb Bu Çin'de alüminyum profilleri geliştirme, tasarımı ve üretimi konusunda uzmanlaşmış en büyük üreticilerinden biridir eloksal için çeşitli renkler var. Dünyanın dört bir yanındaki arkadaşlarımızla uzun vadeli bir ilişki kurmayı umuyoruz.
Establishment
In 1993
Fixed assets
RMB10,000,000
Factory scope
100,000 m2,

  

and more than 800 employees
Annually output
More than 60,000 tons.
Mould
We have more than 30000 moulds and a whole set of moulds for window & door of Nigeria
Extrusion machine
21 extrusion line, 600-2500 tons and the biggest one can produce max 350mm width
Imported extrusion lines
a) 

Harni(Japan)

 anodized & electrophoresis lines
b) Electrophoresis lines imported from Korea
c) CNC color anodized system
d) Wooden grain lines imported from Korea
e) Thermal barrier aluminium profile lines imported from Switzerland
f) WAGNER (imported from Germany) powder coating & PVDF lines etc.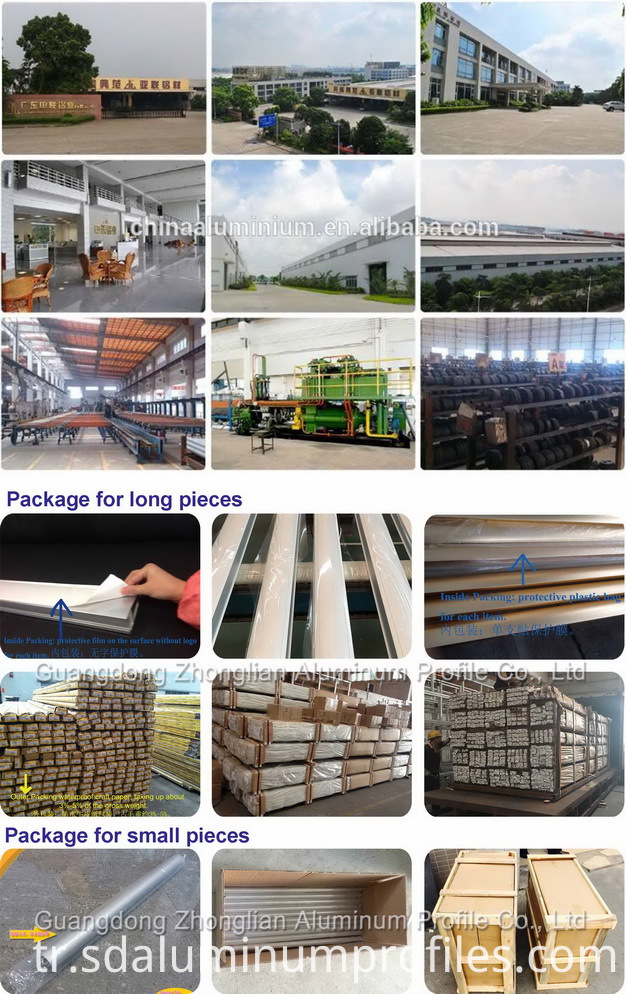 Ambalaj Detayları
1. Bundles Packing:
-- Inside: packed with plastic protective film to protect each piece
-- Outside: Wrap to be bundles by waterproof craft paper or EPE film.
2. Carton Packing:
--Inside: Each pcs pack in one plastic bag;
--Outside: Numbers of quantity put in one carton.
3. Wood Pallet Packing:
-- Inside: Bundles or cartons packing;
-- Outside: Numbers of bundles or cartons laden on one wood pallet.
4. Customized packing requirement available.
Kalite garantisi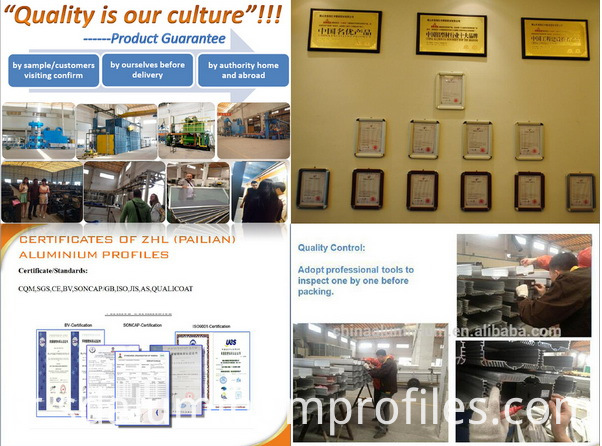 SSS
1. S: Örnek verebilir misiniz?
C: Evet, yüzey renk örneği mevcuttur.
2. S: OEM mevcut ve kalıp maliyeti ne durumda?
C: OEM memnuniyetle karşılanır, kalıp maliyeti tasarıma bağlıdır, lütfen bize çizim veya numune gönderin ve yeni bir kalıp ve numune yapmak yaklaşık 15 gün sürer.
Ayrıca, eğer mevcutsa, 30000'den fazla kalıp ve depomuzdaki Nijerya pencere ve kapı için kalıp seti var, kalıp maliyetini kaydedebilirsiniz.
3. S: Ürünlerinizin ana pazarları nedir?
C: Ana pazarlarımız Amerika, Avustralya, Afrika ve Avrupa'dır.
4. S: Nasıl yüksek kaliteyi sağlayabilirsiniz?
A: 1) 23 yıldır kendi imalat atölyemiz ve kalıp fabrikamız var.
2) 21 üretim hattı, 800 çalışan ve işçiler çalışmaya başlamadan önce iyi eğitilmelidir.
3) hat ve son muayene üzerinde% 100 QC, herhangi bir kusurlu ürün fabrikamızda dışarı olabilir.
4) Kalite, ISO9001 gibi sağlamak için birçok sertifikamız var: 2008, ISO14001: 2004, ISO10012, vb.
Herhangi bir sorunuz varsa, lütfen aşağıdaki gibi benimle iletişime geçmekten çekinmeyin, teşekkür ederim!
Sandra Deng Guangdong Zhonglian Alüminyum Profil Co, Ltd Eklemek: Hongling 3 Yol, 2. Changhongling Sanayi Parkı, Dali Kasaba, Nanhai İlçe, Foshan, Guangdong, ÇinMOB: + 86-18825438761Tel: 0757-81823028 Faks: 0757-81823027 Websitesi: http: //www.nhzhonglian.com
Ürün kategorileri : Alüminyum Perde Duvar profilleri
Bu tedarikçi için e-posta